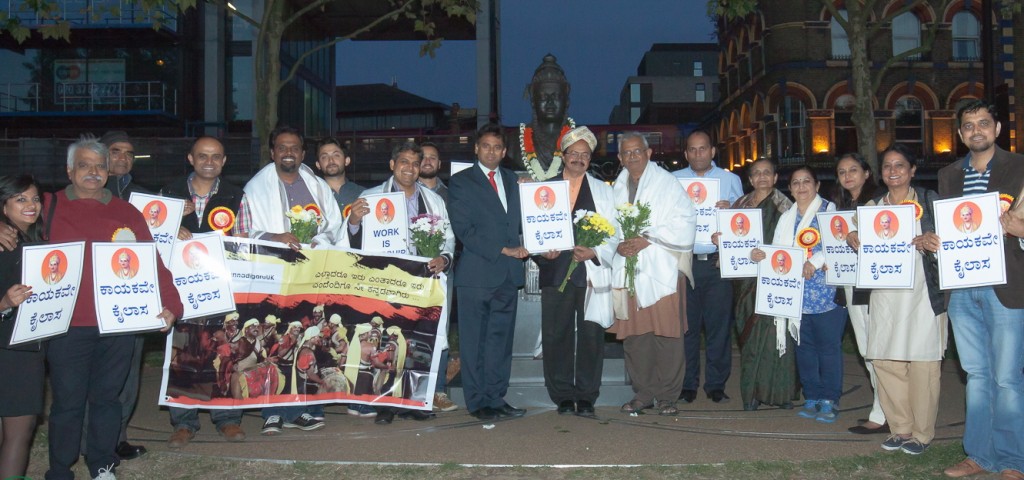 Renowned Kannada film Director Mr Nagathihalli Chandrashekar was honoured by The Lambeth Basaveshwara Foundation in London on 23rd October 2016.The former Mayor of Lambeth Dr Neeraj Patil had invited him on behalf of The Foundation for his contribution towards promoting Kannada culture and heritage.
Members of British Kannada community led by Kannadigaru UK joined this important occasion. Kannadugaru UK is the largest Kannada organisation in UK which is promoting kannada culture and heritage over the last decade.
Mr Nagathihalli Chandrashekar expressed tribute to Basaveshwara & his contribution towards democracy and social justice. He said, I am extremely pleased to see the statue of a Kannada philosopher in the backdrop of British Parliament overlooking the river Thames in the historic city of London.
Mr. Nagathihalli Chandrashekhar is a renowned Kannada director, actor, screenwriter and a lyricist who in Kannada Cinema.He made his film debut as a screenplay writer in Kadina Benki (1986), which won the National Film Award for Best Feature Film and the Karnataka State Award. His directorial debut was Undu Hoda Kondu Hoda(1991) for which he won the Karnataka State Film Award for Best Story. Three of his films, Kotreshi Kanasu (1994), America America (1995) and Hoomale (1996) won National Film Awards and his other film Amrithadhare (2005) won him a Filmfare Award. Dr Nagathihalli Chandrashekar is also the recipient of the prestigious Puttanna Kanagal Award.
This is the first conceptual statue to be approved by British Government in the vicinity of British Parliament as a mark of respect to 12th century Indian Philosopher and social reformer Basaveshwara for promoting democratic ideals and gender equality during the 12th century.The statue was unveiled by Prime Minister Modi on 14th November 2015.